Thomas Schott Company
95CM Concrete Mixer
Tough. Dependable. With a top notch reputation in the business. These mixers are so good, they're referred to by name in bid specs. From top to bottom, the quality and value shine through. From the reinforced front post that adds strength where it's needed to the wider axle design for more comfortable towing. Stone Champion Concrete Mixers are the prize fighters you've wanted.
We offer the 9 cubic foot Stone Concrete Mixer with a Lombardini diesel engine or a Robin diesel engine for $3,950.00 F.O.B. Sebring, Florida.
Call or e-mail to place an order or if you have any questions.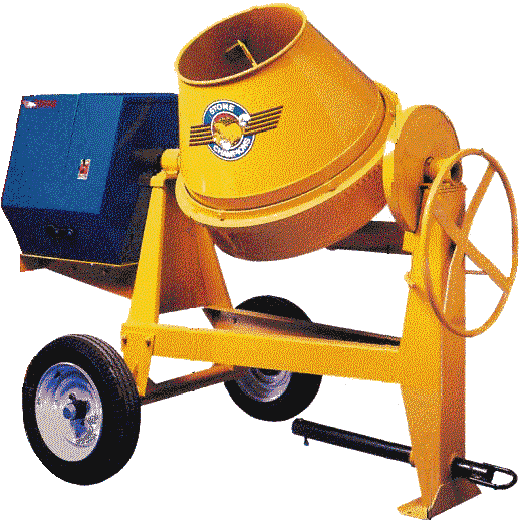 95CM Concrete Mixer Features
Strong reinforced cowl with full length rust-proof hinge provides superior ventilation and protection for the engine - Allows easy access

Steel paddles are oversized for fast, complete mixing

Sturdy handwheel provides convenient way to control dumping

Easily accessible grease fittings make maintenance fast and easy

Positive gear and dog drum lock secures drum in one of 94 positions for accommodating mixing and/or storage needs

Heavy duty one piece cast iron ring gear delivers smooth operation and long life

Large, rugged steel yoke is reinforced and MIG welded for extra strength in areas where it counts

Choice of pintle or pin type hitch at no extra cost
[ Ford Diesel Engines ] [ Lombardini Diesel Engine ] [ Clear Water Pumps ] [ Trash Pumps ] [ Gorman Rupp Diesel Powered Fire Pumps ] [ The Gorilla Double Diaphragm Pump ] [ Diesel Concrete Mixers ] [ Request Printed Literature ] [ Robin Diesel Generators ] [ Robin Gasoline Generators ] [ Robin Diesel Engines ] [ Camlocks,Hose and Fittings ]